Rajar Chithi (রাজার চিঠি)
Publisher: Pratibhas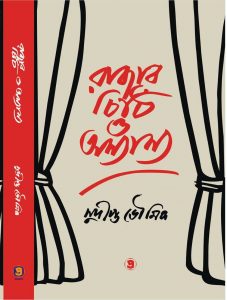 An anthology of seven plays in Bengali. The plays tell the stories of stranded men and women trying to hang on to their roots and beliefs. The preface is written by the noted theater personality, Bibhas Chakraborty. The plays in this collection include:
(1) Rajar Chithi: SanFrancisco 1916. Two men, deputed by their leaders to assassinate Rabindranath Tagore, battle their demons.
(2) Palok : A young couple grapples with the US legal system to get back their child, but their dark past becomes their primary impediment.
(3) Banaprastha : A retired virologist returns to his homeland to escape his demons, but his nemesis follows him.
(4) Ekti Gnaye Thaki: A brother and sister unite after fifteen years only to discover their bond being challenged by material needs.
(5) Cassandra, othoba, Hoyto Ekti Chairer Kahini: A man in an eternal state of denial is stuck in his zone of comfort.
(6) Beej o Brahma: Be it Gargi, or be it Maitreyee, a woman is always suppressed by their male superiors. But times have changed.
(7) Muktir Khonje: A grandpa seeks help from his grandson to escape from his predicament.
Ajo Kahini  (অজ কাহিনি ও অন্যান্য)
Publisher: Kalabhrit
"Ajo Kahini O Onyanyo" is a collection of five (5) hilarious plays by Sudipta Bhawmik.
(1) "Moner Boney" : A psychiatrist and his new theory creates a laugh riot in a forest resort
(2) "Ajo Kahini" : A hilarious story of goat meat politics
(3) "Bad Protibad" : The ever protesting Bengali and his political ambitions
(4) "Kobir Sesh Sakkhatkar": A bitter sweet love story
(5) "Pheluda Fail" : A middle aged Feluda's heart breaking confession
Natak Samagra (নাটক সমগ্র)
Publisher: Saptarshi Prakashan
Natak Samagra is a collection of seven plays in Bengali by Sudipta Bhawmik. Although each play tells a different story, they all have a common thread-they tell the stories of our Indian American existence, with all the struggles to fit in, and the struggles to reconcile with our past. The plays in this collection has been staged in various cities in USA and India and has also been published in major theater journals in India and have received wide critical and audience acclaim. This collection includes the following plays: Phera (The Return): Set in a suburb of the great city of Calcutta in India during the late seventies and early eighties, The Return deals with the eternal struggle which every immigrant in USA has to go through in order to balance between the strong attachment to their home land and the economic and social demands of life. The play tells the story of a young immigrant man, whose family is dependent on his dollar remittances, decides to go back to his country and faces strong resistance from his loved ones. Kaalsuddhi (The Redemption): This play is about a person named Subimal who, once an active Maoist communist, had to flee his own country and come to America in search of a new life. Although Subimal did find a new life for himself, his past always haunted him, a past which he had always kept a deep secret. Suddenly, one day this secret starts to reveal itself to his son Somu from a long lost diary. Somu, a Harvard junior, is extremely curious to know the details of his father s past, wants to know more about the Naxalite movement. But he never could have guessed the kind of murky and deep waters he is getting into. Subimal tried to prevent the inevitable, but his failure to do so ultimately leads him to his redemption. The other plays include Ron, Musical Chair, Taconic Parkway and Satyameva.
Dance Pe Chance
(ebook)
Publisher: Smashwords
"Dance Pe Chance" is a hilarious play in Bengali. Kakoli and her reluctant husband Ashok prepare to join the dance competition to be judged by the famous Bollywood matinee idol Mithun-da. Their arch rivals, Satyaki and his reluctant wife Kheyali also try to gear up for the grand show. Mantu arrives to lend them a helping hand. What happens next is a laugh riot that sends the audience rolling down the aisles.
The play has been staged several times around the country and has received rave reviews. The approximate duration of this family-friendly play is sixty minutes with five (5) male characters and two (2) female characters.
This book is available in epub ebook format and can be read with any epub reader.